INFINITE MOTHER (IN PROGRESS)
Infinite Mother is a video game film, known as a machinima, that responds to the disassociation children feel towards their parents, specifically mothers who have been emotionally absent because of modern cultural pressures.


Since the advent of the internet, a generation of children have used devices as surrogates for the guidance and kinship mothers offer. The film seeks to salve this rift by creating a digital haven that stitches the mythological with the personal in an open world where digitally native audiences can process generational trauma.

Viewers explore the world of 'Amah,' a deity inspired by Mitochondrial Eve and the Chinese goddess Xi Wangmu. In science and lore, these characters are the mother of mothers, ancestors to us all.

Viewers navigate a series of ascending grottos, interpretations of the circles of hell in Western canon and diyu in Chinese myth. While the circles traditionally hold different punishments, these grottoes are tableaus of intergenerational pain and spaces for reflection.

This work serves as a salve for a generation seeking connection to their progenitors. It is meant to facilitate the collective processing of lost time, ancestral sense making, and the forming of new family bonds for those of us who have resorted to the internet as our space of care. The project recognizes our interdependence, shared experiences, and a search for family when all too often our bonds feel attenuated or even broken.

Built on the Unreal engine, the visuals utilize recorded motion-capture movements of chimeric fauna scattered throughout the craggy rockscapes, mossy bogs, and serene pools.

Unique to the project is the music: we have transposed my mitochondrial DNA to create a haunting soundscape. The A, T, C, and Gs are inherited from mother to child and trace back to Mitochondrial Eve, humankind's shared matrilineal ancestor.

To be completed 2025.


Special Thanks to Alex Darby, Daniel Grushkin, Ying Zhang, Taüs Jafar, & Pariah Interactive.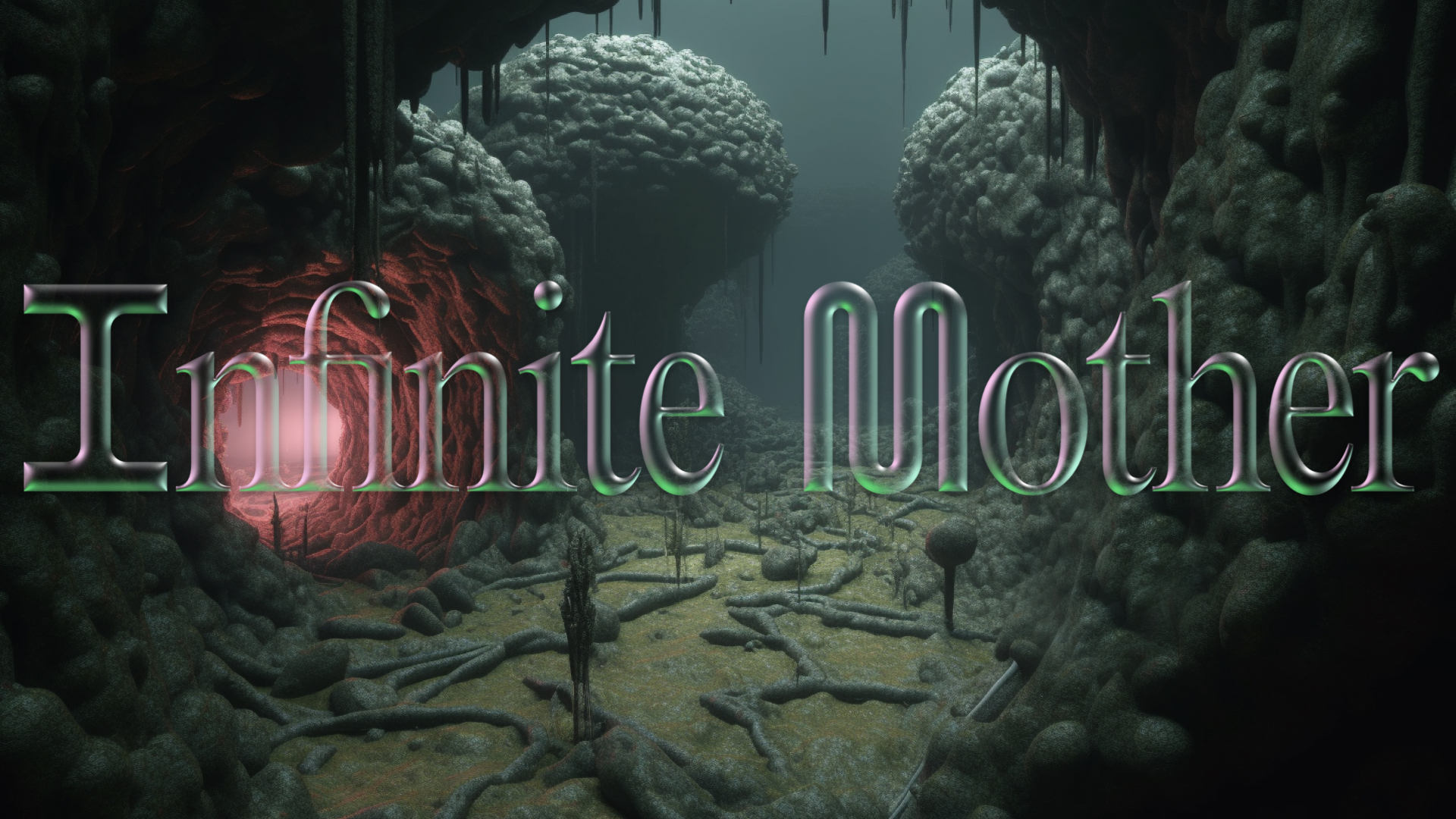 Concept stills





Artist-narrated overview



***
(1) Storytelling Enables Kinmaking

Storytelling has always been a potent means of kinmaking. In my mother's absence, my grandmother raised me on stories from Chinese mythology. Tasked to raise a community of orphans in southern China, she had decided to adopt my mother. As she had done with my mother, she filled the role of kinmaker for me.

I'd like to believe that I will continue her legacy through my work. In practice, I evolve the stories she told me—and to ones she referenced—into a new, reimagined lore—one that I hope will create kin online. Storyboard elements of Infinite Mother can be found in my portfolio submission.


(2) Collective Vitality

In the High Middle Ages, German Benedictine abbess Hildegard von Bingen coined the term 'Viriditas', meaning the vitality shared between people and nature as a symbol of spiritual and physical health. I am creating the visual landscape within my virtual world to embody Viriditas. Here I draw a metaphor between mental health and a verdant landscape full of plants and animals. Just as a plant that is pruned or damaged can regrow branches and leaves, we have the agency to heal and grow beyond our wounds. Viriditas is a shared regeneration, a bridge between each other, the world, and its verdance.

Each grotto is set against lush verdance, juxtaposing painful encounters within a healing environment. As the film flies through each grotto, an omniscient voice will express the ties between the nurturer and the nurtured, Chinese myth, and regeneration.


(3) DNA as a Generational Bridge

DNA is the molecular legacy that our ancestors pass down. Infinite Mother uses a soundscape derived from matrilineal DNA. I sequenced the HRV1 & HRV2 sites of my genome. This is the DNA code that descends from mothers to their children. I transposed the A, C, T, Gs into music that uses sounds generated from the human body. The translation of real world DNA into a listening experience offers a new visceral way to materialize the unseen bonds between child and mother.